The Use of Plastic in The Fashion Industry
Did you know that it takes 2700 liters of water to produce a cotton shirt? And 9982 liters of water to produce one pair of jeans? Fashion is currently the second most polluting industry in the world, and the natural resources used in fashion are so abundant that their impact is no longer even measured. It is estimated that by 2025, demand from the global fashion industry will continue to grow to approximately 2.25 trillion dollars; and despite the technological innovations that are used to become more sustainable, this sector continues to have a linear economic model.
This causes extremely large amounts of greenhouse gases, intensive water consumption as well as pollution of tributaries. In this industry, the main activities are categorized as: the manufactuing of clothing, accessories and shoes, the transformation of artificial and natural materials, and the generation of yarns and fabrics. It is also highly significant to consider the impact that is created in the area of marketing and distribution within the system. 
The process of extracting raw materials generates a lot of waste and consumes a lot of water and energy. In fact, 60% of the world's production of polyethylene terephthalate (PET), a polymer known for its use in the manufacture of plastic bottles, is used to make textile fibers, compared to 30% for the manufacturing processes of plastic bottles. The problem with the use of synthetic materials is the release of microfibres that are released while washing these clothes. These microfibres reach the ocean in extreme quantities equivalent to 50 billion plastic bottles.
The issue is complex, as fashion has generated a dependence on these plastics and this is difficult, but not impossible, to eliminate. Currently, 65% of garments produced are made from synthetic fibers, according to Textile Exchange, relying on oil as a finite resource for their production and hindering the durability of the product life cycle. The use of hidden plastics in components and distribution practices needs to be re-evaluated, considering their ecological footprint in product processing, transport, distribution, storage, labeling, and the whole supply chain to really make a difference and ensure a better impact.
The sequence of product stages ranges from design development, market introduction, growth, maturity, and product decline. There are also various methods by which textile waste can be recycled, e.g. by shredding old fibers to produce new yarns which are cleaned and put through the so-called 'carding' process. Those fibers that do not make it into yarns can still be compressed and used as filling for mattresses. These fibers can also be produced from plastic waste such as disposable bottles and chopsticks, as they take around 700 years to decompose if left unused.
Also, recycling textiles can be a good option by preventing many polluting toxins and conserving the energy used to make materials from the materials; it also reduces both the space required for landfill, the demand for dyes and chemical fixatives, as well as the cost of transport and transport pollution. The use of alternative textiles (RPET) would reduce plastic waste while the Air-Dye technique, which is another way of applying color to fabrics through the use of air, could reduce energy and water use by 95% and 86% respectively; however, its application worldwide is still only 1% compared to 10% for traditional methods.
Conscious brands and designers?
However, brands in Latin America are now becoming aware of the issue and are tackling it with impactful actions. Recently, Colombian designer Juan Pablo Socarrás was presented at COLOMBIAMODA 2022 with his project 'handmade stories', presenting the 'Amar' catwalk as a result of his work with indigenous communities in Mexico, Colombia, and Guatemala. This catwalk is based on the production of pieces using PET plastic waste and applies the so-called 'upcycling' or supra-recycling as the technique to give a new life to waste.
Moreover, they are not only taking it into account for trendy fashion, but also for workwear. For example, the uniform of the staff of the (ecological) airport in the Galapagos was made with more than 5000 PET bottles and coconut buttons. The containers were collected from the airport's own rubbish bins as part of the campaign 'Baltra, free of plastics', promoted by Latam Airlines Ecuador. This action alone saved 7.04 tons of CO2 emissions through recycling, avoiding the contamination of 36,000 PET bottles in the Galapagos Islands.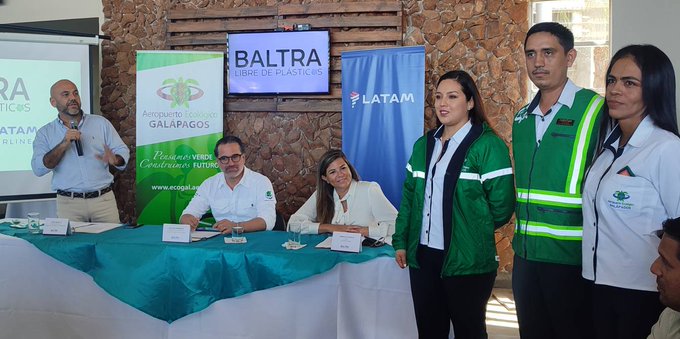 Madre Tierra
This is how became familiar with Madre Tierra, an ecological clothing brand created by two young Colombian women based on sustainability without leaving style behind. Through the company ENKA, a producer of plastic bottle material for various purposes, they manage to use PET bottles that end up in polyester, together with textile waste from the same garments, and organic cotton that generates less greenhouse gas emissions and 91% less water than regular cotton. Here is a more detailed video about the process:
So, we managed to talk to one of the co-founders of the company Juliana Trujillo, who is currently CMO of the brand, and who told us a little of its history:
"The idea of Madre Tierra was born from Pizantex, a family business dedicated to the marketing and production of textiles, private labels, endowment, and catalog sales. The brand was actually registered 12 years ago but only after 9 years Juliana and I managed to establish it properly. We not only wanted to make sustainable garments that could be worn on a daily basis on the way to work, but also to be able to offer Colombian businesses the possibility of sharing these sustainable materials and fabrics".
Therefore, its main objective is "to make the textile industry in Colombia positive and non-destructive, that what is done must be done well and in a balanced way for the planet, nature, and people, creating awareness and affordability in fashion."
In addition to this, they have managed to create a community of people who are interested in carrying out actions that move beyond clothing by offering guidelines for a sustainable lifestyle, supported by their blog and social networks where they provide valuable information on the subject. Moreover, they want to create workshops on how to give a new life to things and are considering the initiative of renting exclusive garments to achieve 100% circularity.
"Sustainable living is not difficult, it's about changing small actions that might not seem very big in your normal life. Ask questions, and find out about the brand's certificates and materials so that you don't fall into greenwashing. We must also understand that sustainability also comes after the purchase, the post-consumption of the garment, the useful life that is given to it and the care of it," is the advice that Manuela gives us from her experience.
The True Solution
The fashion industry has the capacity for creative redesign, responsible production, and a quick turnaround, and although polyester remains a problematic material in terms of sustainability, it can still prevent quantities of plastic bottles from ending up in the ocean or in landfills taking over 100 years to decompose. Simply recycling plastics, rather than re-producing them, saves ⅔ of the energy normally used.
Sin embargo, al final lo ideal y la mejor opción para el planeta sería lograr una economía circular y sostenible que realmente funcione, por medio de los gobiernos, las empresas y los consumidores actores sostenibles del cambio. Las compañías de moda deberían al menos empezar a optar por opciones de reparación, compraventa de ropa de segunda o incluso alquiler. Esto podría generar más conciencia en el consumidor sobre sus compras, al ser más duraderas, menos impulsivas y mejor reguladas.
In the end, however, the ideal and best option for the planet would be to achieve a circular and sustainable economy that really works, through governments, businesses, and consumers being sustainable actors of change. Fashion companies should at least start opting for repair options, buying and selling second-hand clothes, or even renting. This could generate more consumer awareness of their purchases, being more durable, and less impulsive, in order to contribute to creating better-regulated processes.
Since you're here…
Our mission is to monitor Advertising to make certain that companies obey ethical standards of trustworthiness and transparency while communicating their commitment to addressing the great challenges of the New Millennium. From climate emergency to social inequality through all the issues included in the Sustainable Development Goals Agenda, we monitor the consistency of their statements, if they are 'walking the talk'. With rising misinformation and commercial ownership, independent information is more and more rare. We think citizens deserve access to accurate analyses with integrity at their heart, so we can all make critical decisions about our lives, health and enviroment – based on fact, not fiction.
Our editorial independence means our content agenda is set only to voice our opinions, supported by in-depth research, free from any political and commercial bias, never influenced by interested owners or shareholders (which we don't have). It means we can stand up to mainstream and give a voice to those less heard. We hope this will motivate you to make a contribution in support of our open, independent journalism. Every reader contribution, however big or small, is so valuable. Support BeIntelligent from as little as €5 – and it only takes a minute. Thank you.
---